Who were the nephalim (or giants) mentioned in genesis 6:4? Are they the offspring of fallen angels? or Are they the offspring of the sons of God through the line of Seth who mingled with the daughters of men through Cain? or Were they simply powerful human rulers?
Admin




Posts

: 3


Join date

: 2016-10-13



It seems to me that verse is making a distinction between the line of Seth ( the godly line) and the line of Cain (daughters of men). The giants (Nephilim, could be powerful men (rulers/men of renown). Goliath was considered a giant (but was probably 6' 8" not 9 feet) depending on the measurement that was used. Would Nimrod have been considered a giant/ strong ruler or renown man ( not a godly man whom god punished).



Posts

: 1


Join date

: 2016-10-13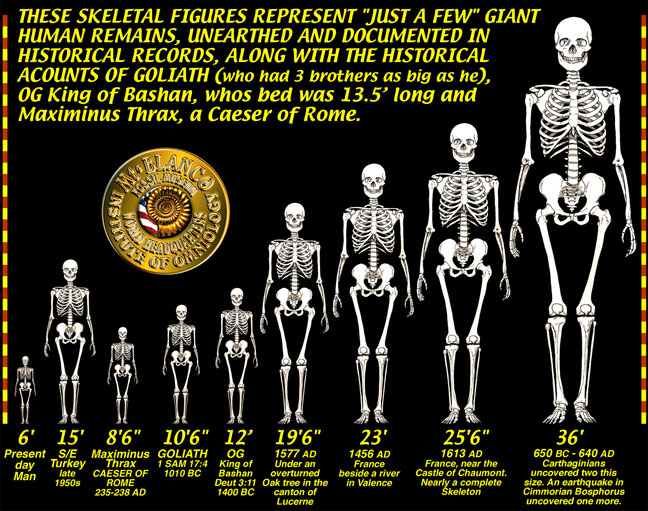 As you can see there are real giants throughout history. I don't find it very difficult to believe that there were real giants at all. I believe they are the offspring of fallen angels who slept with women. I believe these women gave birth to real giants. In regards to Goliath, I'm not sure there can be a case made for him as being one of these Nephilim. God wiped them all out during the flood, so I find it very hard to believe that Goliath was anything more than an anomaly. You didn't hear of any other giants roaming around, in fact Goliath was such an oddity he struck fear into people, even those in his own army, who hadn't encountered any other giants. Let's face it, 10'6'' is tall, but not out of the realm of possibility, even today there's a man who is 8'2''.
Admin




Posts

: 3


Join date

: 2016-10-13



---
Permissions in this forum:
You
cannot
reply to topics in this forum